Design Gallery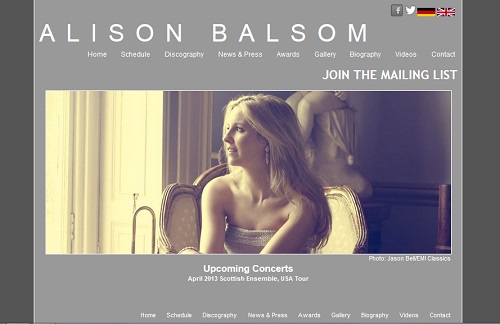 Alison Balsom , London, UK
www.alisonbalsom.com
Alison's site uses our Content Management features to organize and update her Concert Schedule and News & Reviews, as well as her Photo Gallery. Classical trumpeter, international concert and recording artist, and 2011 Female Artist of the Year, Classical Brit Award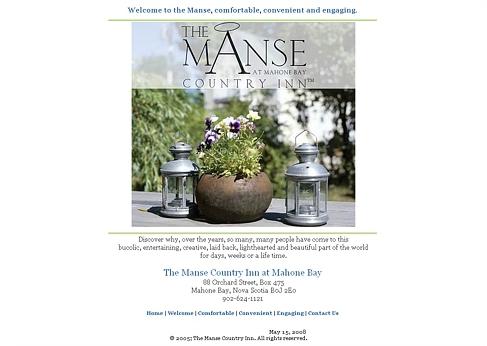 The Manse at Mahone Bay Country Inn , Mahone Bay, NS

Original B&B site in 2005. The innkeepers have retired and the inn was sold as a private residence.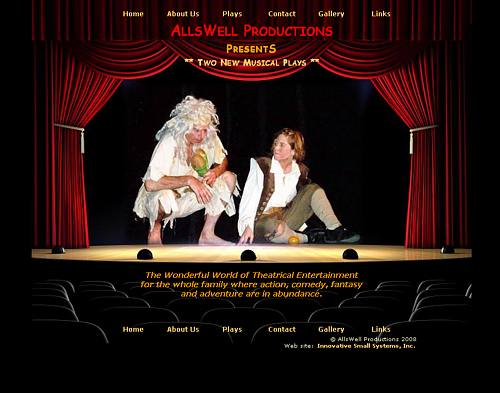 AllsWell Productions , Mahone Bay, Nova Scotia
www.allswellproductions.ca
Two playwrights collaborate to present theatrical entertainment for the whole family where action, comedy, fantasy and adventure are in abundance
Amelia Payson House , Salem, MA
www.ameliapaysonhouse.com
Bed & Breakfast site original design in 2000, redesigned in 2009.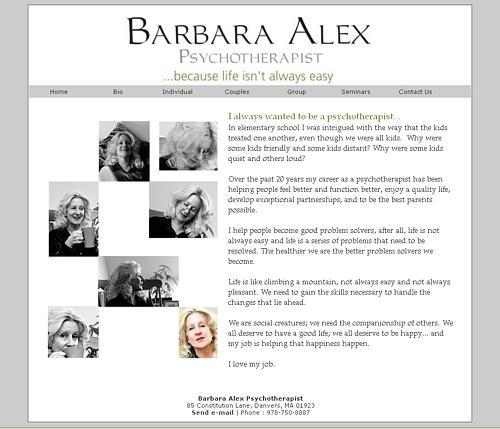 Barbara Alex , North Shore, MA
www.barbaraalex.com
Psychotherapist
Bowditch Initiative , Salem, MA

Original site 2002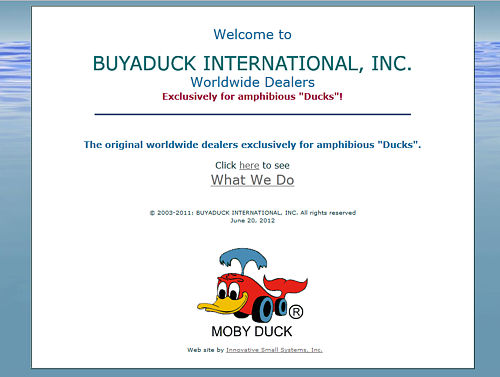 Buy A Duck
www.buyaduck.com
Worldwide dealers for amphibious "Ducks"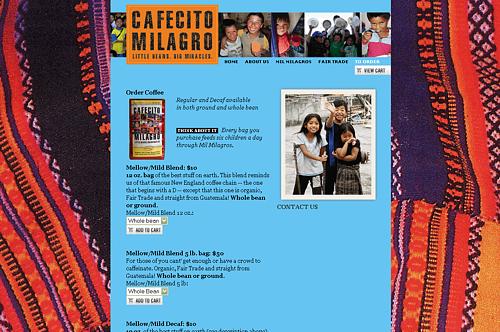 Cafecito Milagro , Boston, MA
www.cafecitomilagro.com
Buying Cafecito Milagro coffee helps to feed and send kids in Guatemala to school! We set up their Order Coffee page with an E-junkie shopping cart and PayPal payment gateway, all in keeping with the overall site design.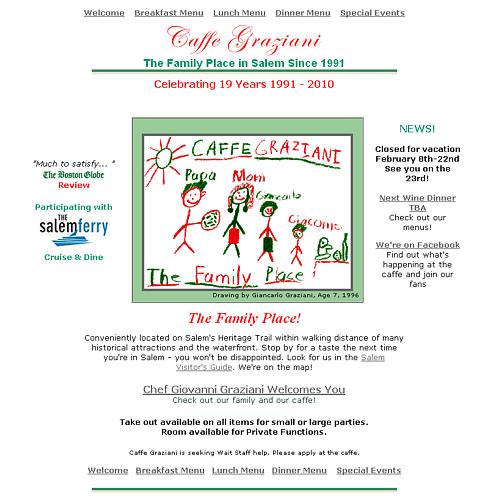 Caffe Graziani , Salem, MA
www.caffegraziani.com
A taste of Italy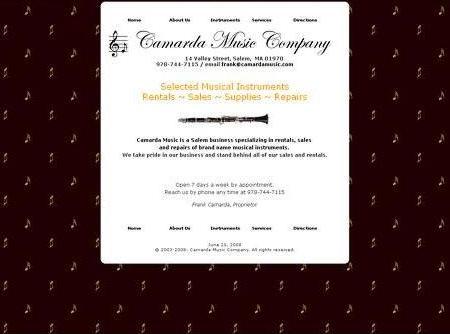 Camarda Music , Salem, MA
www.camardamusic.com
Serving band parents & students since 1950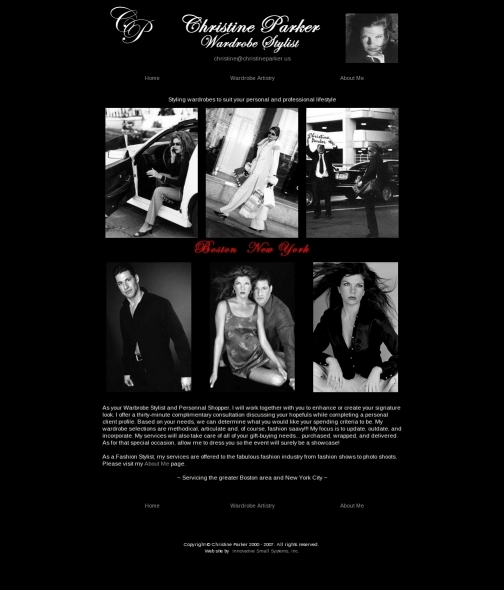 Christine Parker , Boston, MA
www.christineparker.us
Stylist Extraodinaire!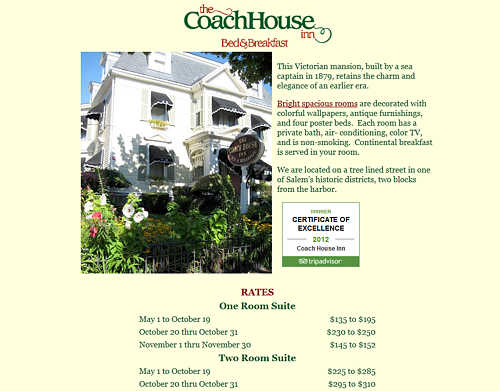 Coach House Inn , Salem, MA
www.coachhousesalem.com
Bed & Breakfast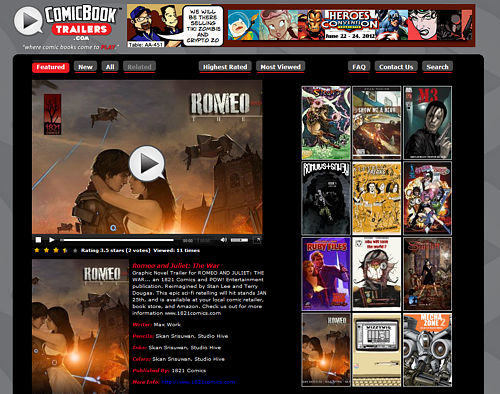 Comic Book Trailers , U.S.A.
www.comicbooktrailers.com
Programming and hosting by ISSI, site design by Graphic Illusions Studios www.gistudios.com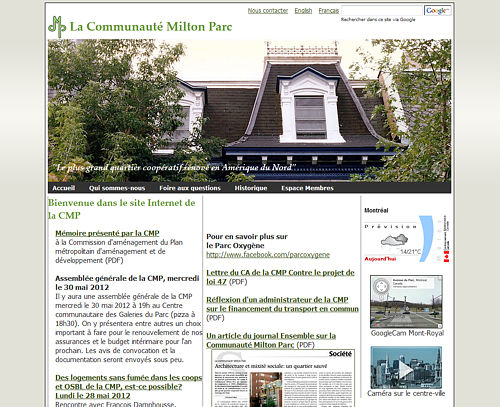 Communaute Milton Park , Montreal, QC
www.miltonparc.org
Content management system for community web site.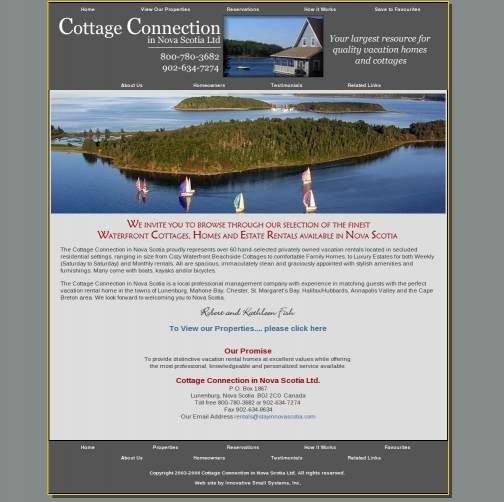 Cottage Connection in Nova Scotia , Lunenburg, NS

We set up a content management system for the site owners to update property descriptions, images and online availability calendars. We designed a custom Property Search capability for visitors to the site.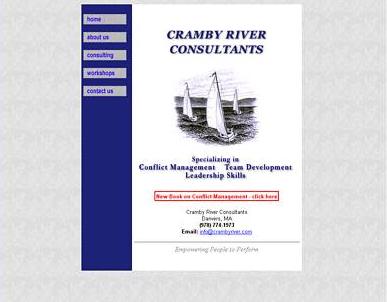 Cramby River Consultants , Danvers, MA
www.crambyriver.com
Original site in 1999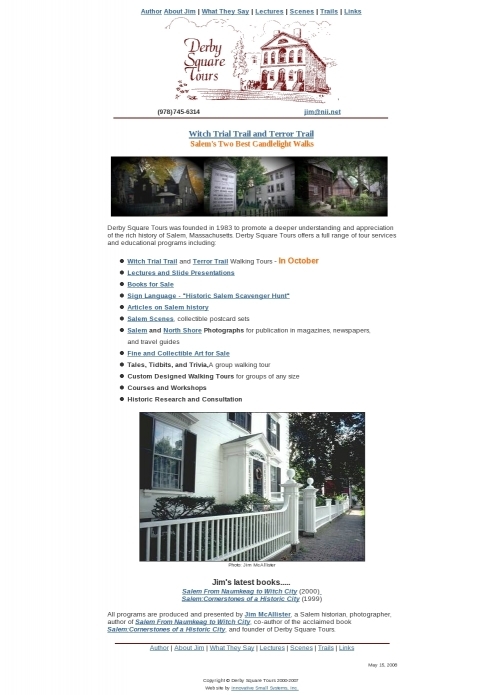 Derby Square Tours , Salem, MA
www.derbysquaretours.com
Historian & Tour Guide, Jim McAllister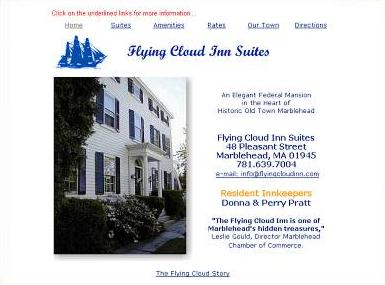 Flying Cloud Inn , Marblehead, MA
www.flyingcloudinn.com
Original site in 2000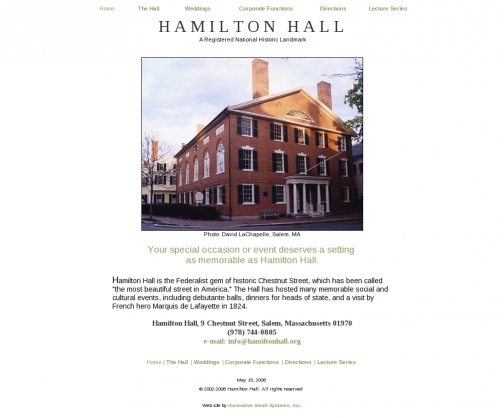 Hamilton Hall , Salem, MA
www.hamiltonhall.org
A unique location for weddings and events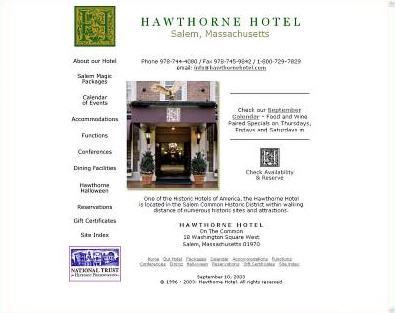 Hawthorne Hotel , Salem, MA
www.hawthornehotel.com
Original site in 1996 & new design in 2003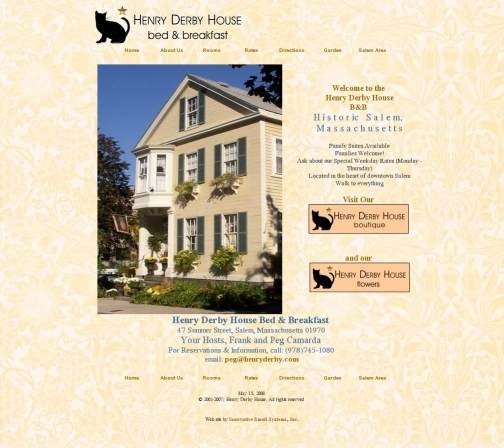 Henry Derby House , Salem, MA
www.henryderbyhouse.com
Bed & Breakfast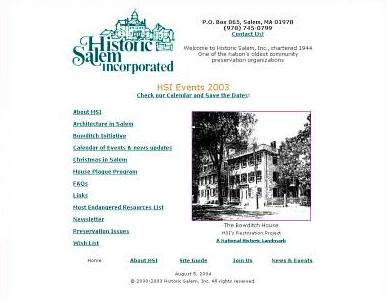 Historic Salem, Inc. , Salem, MA
www.historicsalem.org
Original site in 1999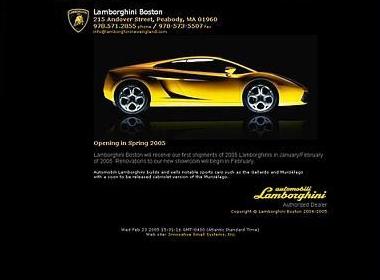 Lamborghini Boston , Peabody, MA

Online inventory system managed by the dealership. Original site in 2005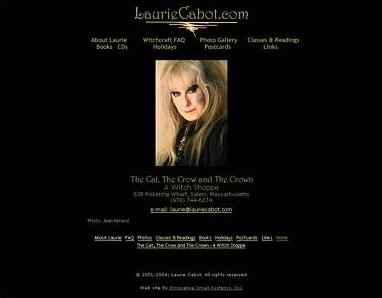 Laurie Cabot , The "Official Witch" of Salem, MA

Redesigned site in 2002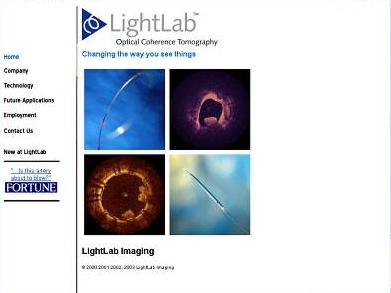 Lightlab Imaging , Westford, MA

Imaging Technology. Original site in 1999. In 2010 Lightlab was sold to St. Jude Medical.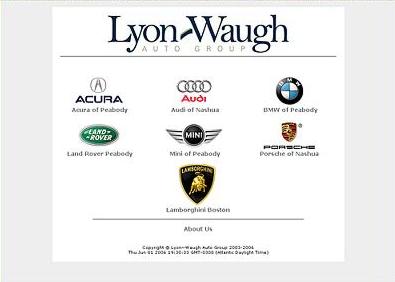 Lyon-Waugh Auto Group , Peabody, MA
www.lyonwaugh.com
Company Intranet and online inventory system for 6 dealer sites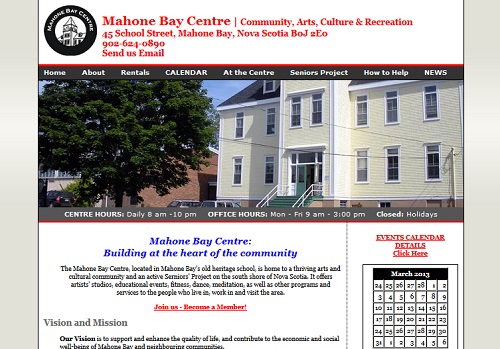 Mahone Bay Centre , Mahone Bay, NS
www.mahonebaycentre.com
Content management system & redesign for this active community centre web site.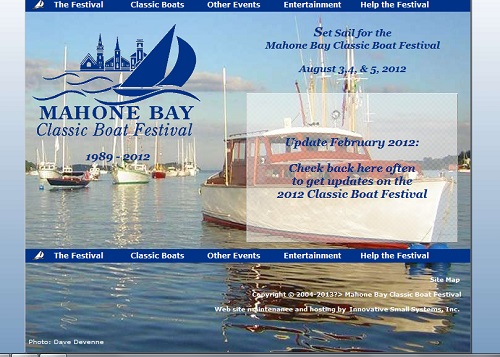 Mahone Bay Classic Boat Festival , Mahone Bay, NS
www.mahonebayclassicboatfestival.org
The site features an extensive Schedule of Events, a database of sponsors and festival participants, and a Photo Gallery, all managed using a custom content management system. The festival promotes the rich wooden boat heritage of Nova Scotia's South Shore.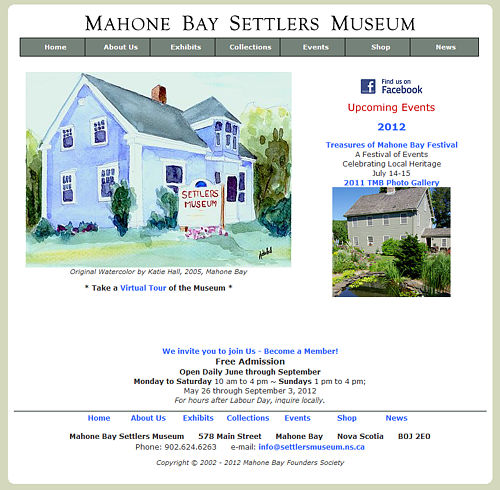 Mahone Bay Settlers Museum , Mahone Bay, NS
www.settlersmuseum.ns.ca
The museum needed user-friendly tools to manage their collection inventory and heritage buildings inventory. We set up a web-based content management feature which the museum staff can use to add and edit these inventories with descriptions and images. The site also has a Photo Gallery for its Paint Mahone Bay festival and uses our Mailing List feature to update subscribers of news and events.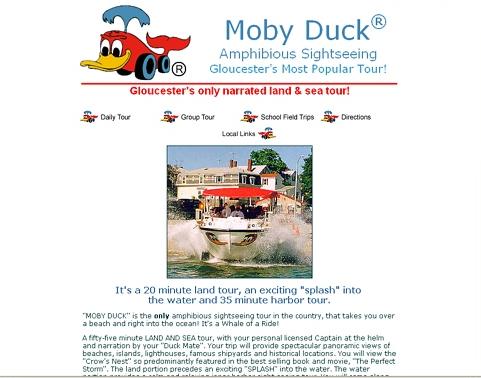 Moby Duck Tours , Gloucester, MA
www.mobyduck.com
Land and sea Tour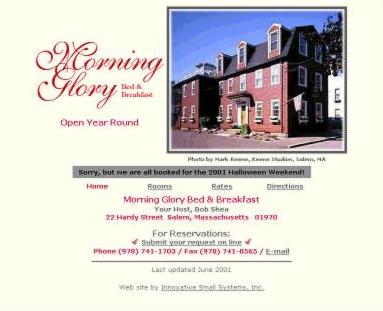 Morning Glory B&B , Salem, MA
www.morningglorybb.com
Original site in 1997 & redesign in 2001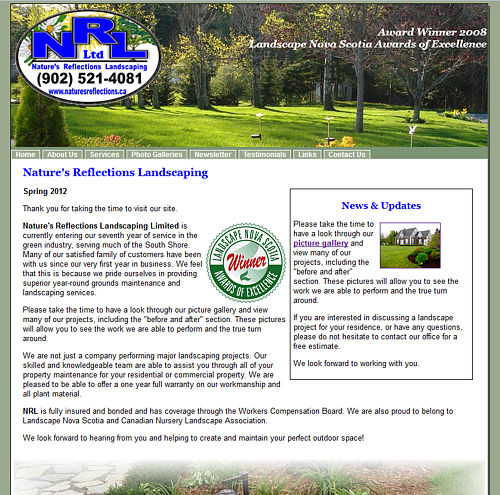 Nature's Reflections Landscaping , Middle LaHave, NS
www.naturesreflections.ca
Photo gallery shows before and after landscaping projects by this award-winning landscaper.
Old Corner Inn , Manchester by the Sea, MA

Bed & Breakfast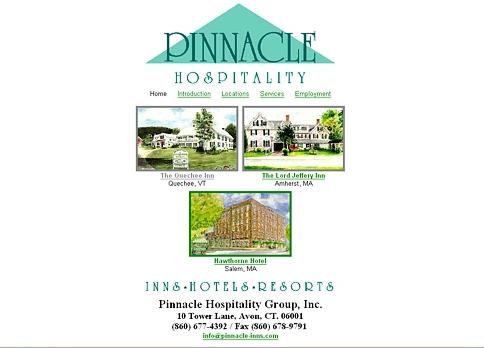 Pinnacle Hospitality Group, Inc. , Avon, CT

Management consultants for hotels, resorts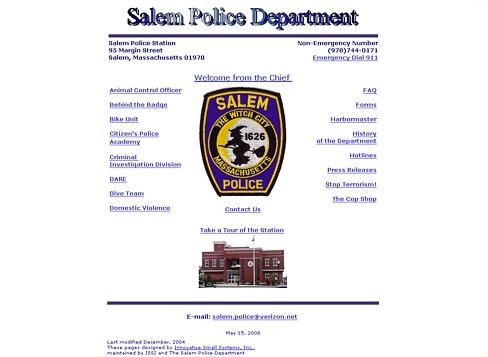 Salem Police Department , Salem, MA
www.salempd.org
Original site in 1996; redesign in 2001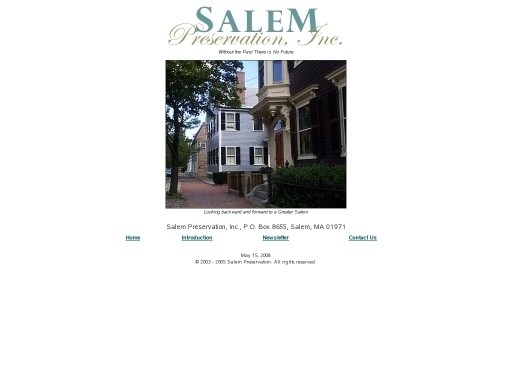 Salem Preservation, Inc. , Salem, MA
www.salempreservation.org
Historic Preservation Organization
Salem Witch Museum , Salem, MA
www.salemwitchmuseum.com
Their online store uses our Content Manangement System for museum staff to update the site with pictures and item descriptions. Salem's Most Visited Museum tells the story of the Salem Witch Trials of 1692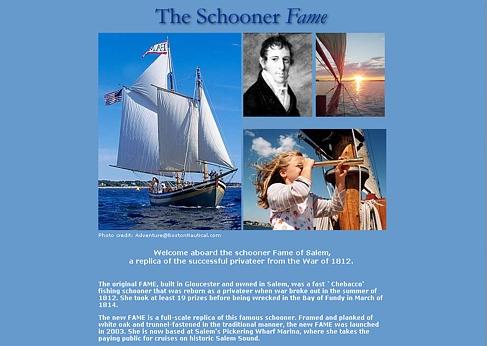 Schooner Fame , Salem, MA

Replica of 1812 privateer Fame launched in July 2003, offers tours and cruises.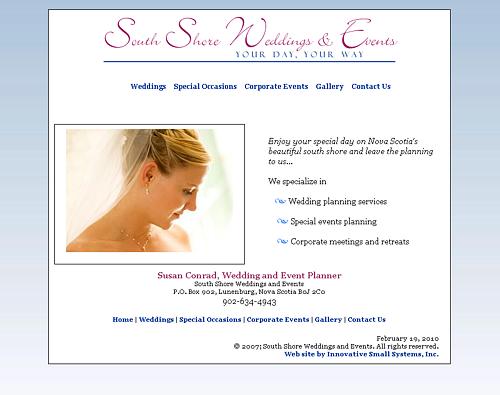 South Shore Weddings & Events , Lunenburg, Nova Scotia
www.southshoreweddings.ca
Wedding & Event Planning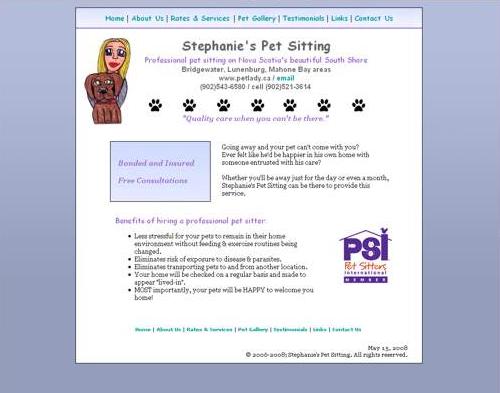 Stephanie's Pet Sitting , Bridgewater, NS
www.petlady.ca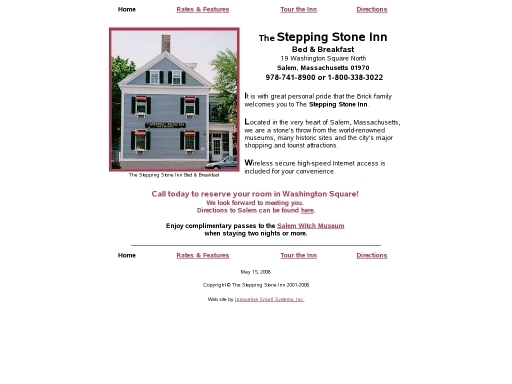 Stepping Stone Inn , Salem, MA
www.thesteppingstoneinn.com
Bed & Breakfast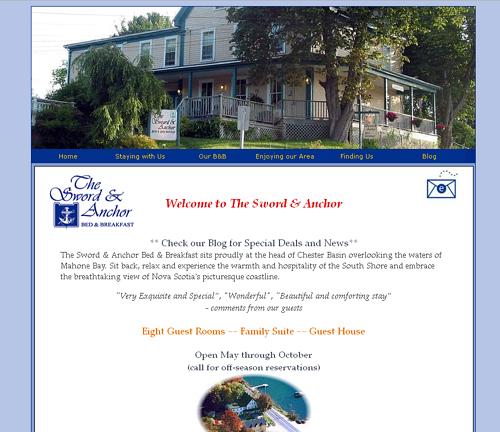 Sword & Anchor Bed & Breakfast , Chester Basin, Nova Scotia
www.swordandanchor.com
Bed and Breakfast inn on Nova Scotia's beautiful South Shore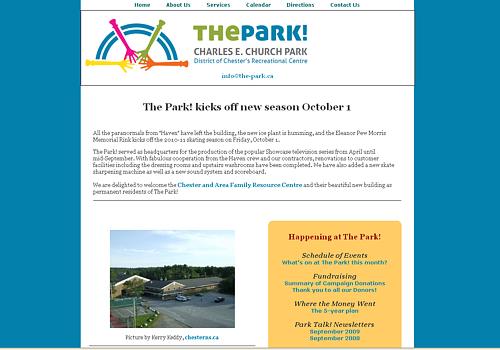 THE PARK! Charles E. Church Park , Chester, NS
www.the-park.ca
This recreational complex needed a Calendar for their activitities and events, as well as a way to update the news about their very successful capital campaign. We provided a back-end user interface so they could manage these items themselves. Original site was set up in 2005 and updated in 2010 to reflect The Park!'s new name and branding.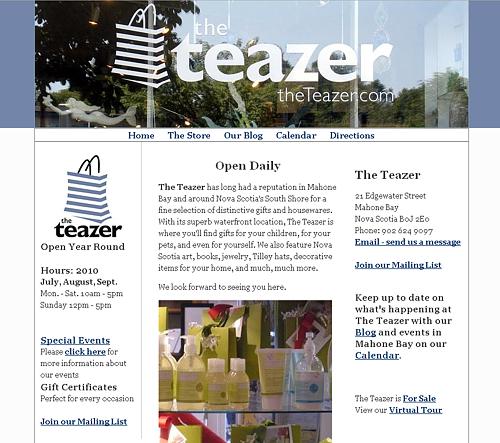 The Teazer , Mahone Bay, NS

Distinctive gifts & housewares in a stylish seaside shop. The site features a Photo Gallery/Slide Show, a WordPress Blog, Google Calendar and a Google interactive map.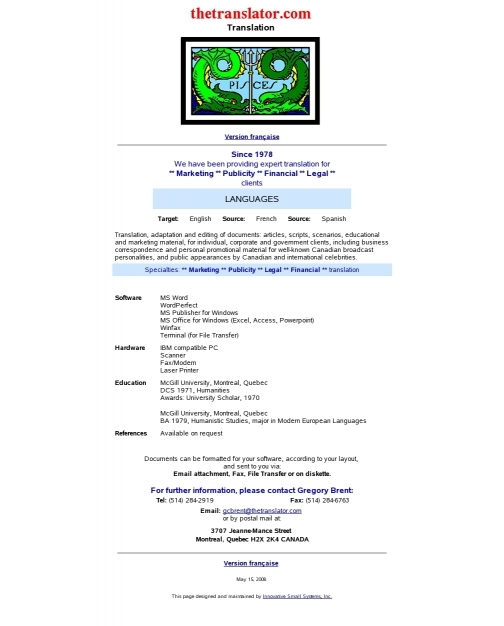 TheTranslator.com , Montreal, Quebec
www.thetranslator.com
French to English, Spanish to English
Traill's Crest Loft , Heckman's Island, NS

The loft closed in 2010. A private Nova Scotia getaway in a beautiful country setting near Lunenburg.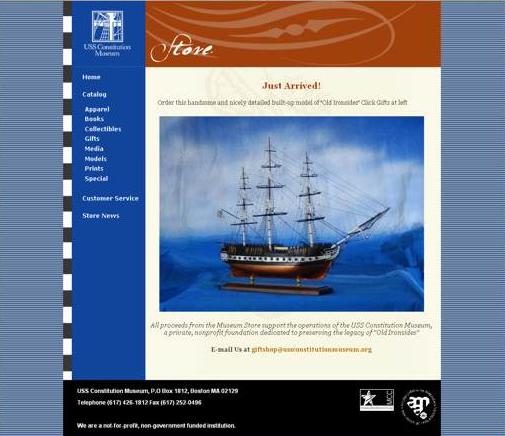 USS Constitution Museum Store , Boston, MA

Original online store with CMS functions for staff to update the site themselves.
Water Structures , Seabrook, NH
www.waterstructuresco.com
Custom Fountains, Spas, Pools & Baptisteries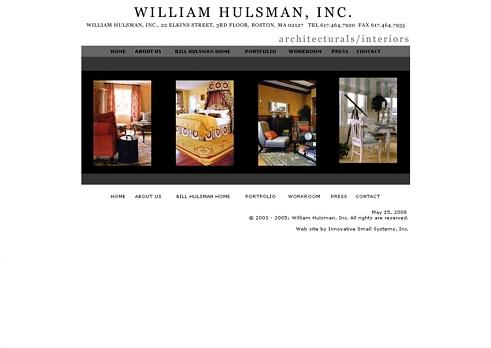 William Hulsman Inc , Boston, MA

Original site 2004